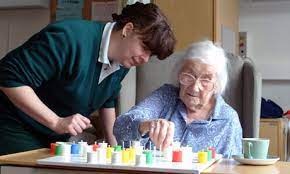 Mental health has received more attention and discussion in recent years. As a result of these positive changes, many of us have become more comfortable discussing mental health issues openly, seeking treatments and therapies for ourselves, those we care about, and others.
As we get older, our mental health desires shift. We have entered a new stage in life, which can often bring with it its own set of trials and tribulations, leaving us feeling burdened, stressed, and at times helpless. More than one in every five older people suffers from severe mental health problems that necessitate professional assistance. To cope, many elderly people require assistance and support. There is always help available. It can make all the difference in the world to get the right kind of medical help at the right time in the hopes of ensuring future comfort.
Stress affects the elderly on a regular basis.
People over the age of 65 are confronted with a wide range of issues that can become stressors. To maintain their well-being, they usually adjust to these changes by drawing on their sense of self and community resources. A person's ability to cope, receive social support, and maintain independence all contribute to their ability to deal successfully with the challenges of aging.
 Body Issues:
 Our bodies suffer from wear and tear as we age. Stress can lead to serious physical health problems such as heart disease, stroke, Alzheimer's disease, and so on, all of which can be stressful.
Losses:
 Another disadvantage of getting older is that we experience more loss as we get older. Everyone suffers when close friends and family members die. Other losses include the loss of parents, siblings, and friends, as well as the lessons they taught us as children.
 Changes in living conditions:
 Many older people prefer to live independently, but as their health deteriorates, they are forced to live with their children. Because of this change in status in their family, several elderly adults feel robbed of their environment, routine, and independence.
 Financial sources of anxiety:
 Unexpected events such as hospitalization or illness can be financially stressful for the elderly. It may be even more difficult for the elderly who do not have a pension. Family relationships and changing circumstances can also be obstacles to adjustment.
Absence of activity:
Mental and physical exercise are likely to improve physical and mental well-being. However, for many elderly people, once they retire, there isn't much to do. Mental decline can occur if you do not challenge your mind.
Increasing mental health and well-being:
Prioritizing your mental and physical health, as well as your psychological well-being, is essential. Our mental health affects our physical health, and vice versa.
It is quite simple to maintain a healthy mental state:
1) Eat Healthily:
Eating healthy foods like whole grains, fruits, vegetables, and pulses is the best way to take care of your mental health. When the sugar rush from sweet foods wears off, it causes feelings of exhaustion and depression. You will not experience a sugar rush if you eat healthier foods.
2) Get Enough Rest:
 Our sleep needs change as we get older, and we need to sleep longer to get enough rest. Older people do not sleep as deeply as younger people. A good night's sleep is beneficial for concentration, memory formation, and cell repair. It is also an excellent way to strengthen your immune system.
3) Consistent practice:
Exercise has the positive effect of improving mood and emotional well-being. As a result, mental health issues are reduced. Furthermore, it improves overall physical health.
4) Maintaining Relationships:
Relationships are the most important component of psychological well-being. They are frequently referred to as the most important factor in people's happiness and flourishing. We rely on our relationships, whether they are with family, friends, colleagues, or neighbors, to provide us with support when we are in need. Relationships help us cope with stressors and serve as a support system when we need it the most. Sharing our feelings with others is a tried and true method of de-stressing.
5) Make time for enjoyable and relaxing activities:
The value of hobbies is an underappreciated aspect of our culture. Hobbies, whether a sport, an art class, gardening, or something else, can provide contentment and satisfaction in a variety of ways. As we get older, we often find ourselves with an abundance of free time, and finding such activities to engage in can help make our lonely days more enjoyable.
6) Spirituality or religion:
People, particularly the elderly, are becoming more religious as they grow older. Because satangs and pujas are organized for the community's use, this can also be an opportunity for socialization and interaction. People who are religiously devoted have better health and well-being.
7) Use Technology to Stay Connected:
Maintaining contact with friends and family can be a routine for an elderly person, especially if their children live far away or in another country. Staying on Facebook can also help elders who are unable to see or communicate with those around them avoid social isolation.
8) Flow of construction:
When a person gets lost in an activity that he or she is truly passionate about, he or she feels so fulfilled that he or she can pursue it for hours on end. Flow is a state of relaxation or awareness that can be attained through any activity, such as badminton, gardening, painting, or chess.
9) Practice gratitude:
Gratitude is a tried-and-true way to boost positivity and happiness. We can accomplish this by keeping track of everything that makes us feel grateful and thankful. The first step is to look for something small in your daily life for which you can be grateful. This can be accomplished by keeping a gratitude journal or a gratitude jar, which allows you to easily keep track of what makes you happy every day.
10) Help others:
The sense of accomplishment that comes from performing small acts of kindness can help us deal with our negative feelings about ourselves and become content. Participating in the community will provide you with the satisfaction of contributing to causes you care about or volunteering at an NGO. Volunteering, on the other hand, will provide you with more than just a societal service.